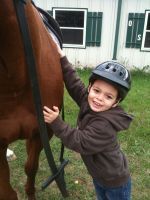 We offer Equine Assisted Learning (EAL) to individuals as well as groups. EAL is an interactive approach to experiential learning through the use of horses. It allows individuals to explore personal growth, emotionally, socially, spiritually, and psychologically. Horses give us immediate feedback about our verbal and non-verbal communication of emotions and behaviors. Horses help us connect to ourselves as well as others and can help us heal.
HOW DOES IT WORK
The lessons are designed to accomplish specific goals. It does not involve riding the horses, but the students do learn to care for them. It also includes playing games with them that can teach a wide range of life enhancement skills. For example, we can use the horses to help build teamwork within a group or improve communication. Horses can also help open up doors of communication that are difficult to accomplish in a traditional setting.

WHY USE HORSES

Horses are curious, playful, aware, intelligent, and respond immediately to our actions. They can be intimidating and that challenges us to trust, believe, and try to open new doors. They communicate with us and we have to learn to listen and be open to hearing what they are saying if we want to be successful and create a partnership with them.


WHO CAN IT BENEFIT

EAL can benefit anyone who wants to improve communication skills, enrich relationships, develop critical thinking, and experience a connection to wellness through horses.
EAL is helpful for any of the following list of disabilities or difficulties and many others:
ADD/ADHD Poor self esteem
Social Anxiety PTSD
Trauma Substance abuse recovery
Depression Eating Disorders
HOW DO I GET A PROGRAM STARTED

Please call or email us for a consultation about your program needs. We offer an onsite farm visit or will come to you. Call Colleen at 201-970-3400 or email colleen@equinetranquility.org

Lesson Prices
Private Hour $65
Private Half Hour $40
Group rates Quoted upon request









Equine Tranquility Wellness Center, Inc.
Mailing Address: 1180 Ringwood Ave, Pompton Lakes, NJ 07442
Barn Address: Equine Tranquility Farm, 134 Airport Rd., Andover, NJ 07821
Ph: (201) 970-3400
Fax: 973-839-6337